EMERGE
Discover Your Inner Strength and Transform Your Life with the Emerge Method
Are you ready to stop holding back, step into your true self, and live a life that feels completely aligned with who you are and what you really want?
Welcome to the Emerge Method, a transformative group coaching program designed exclusively for women who are ready to take charge of their lives and unlock their full potential.
This program is your opportunity to join a supportive community of like-minded women and embark on a journey of self-discovery, growth, and empowerment.
Through guided exercises and discussions, you will gain a deeper understanding of your goals, values, and purpose. This clarity will serve as a solid foundation for creating the life you desire.
With interactive lessons for your mind, body, and soul, you'll learn how to unplug from the world around you, and connect and care for the incredible woman you are inside.
Because you are so worth it!
INTRODUCING...
The Emerge Method:
Women's Wellbeing Coaching
CONNECT WITH WHAT MATTERS MOST.
Learn how to disconnect from the noise, and tune into the creativity, clarity, and confidence within you - within your mind, body, and heart.
I'll teach you how to:
Get clear and centered on what you really want.
Connect with your embodied wisdom and learn to use this innate intelligence (intuition) as your guide.

Build resilience, develop the inner strength, and learn to thrive in any situation with practical tools, strategies, and rituals.

Align your vision with your reality. 
Create your own plan for fulfillment and craft specific goals to get you there.
It's time to nurture and honor yourself like never before.
MODULE #1
Energy + Intention: Understand the fundamentals of energy and personalize your experience through setting your unique aim.
MODULE #2
Center + Ground: Hone your focus, get specific about what you really want, and infuse this clarity into your body and mind.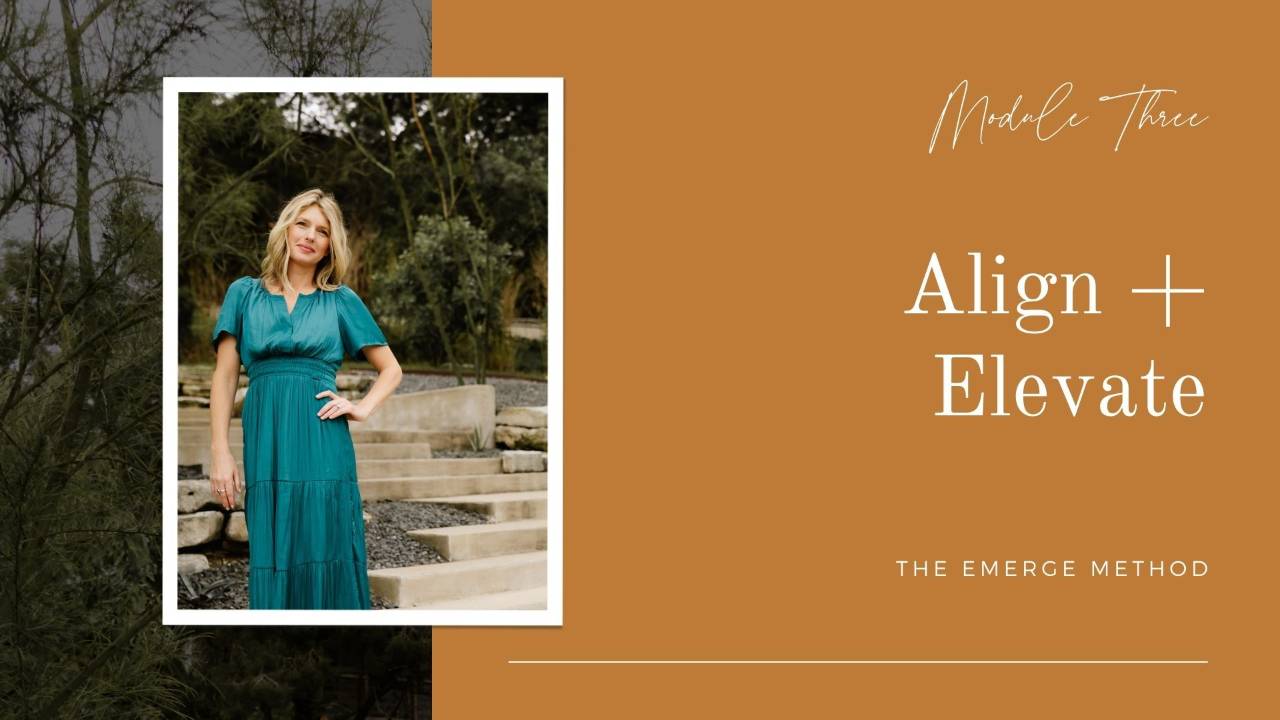 MODULE #3
Align + Elevate: Learn how to align with your highest self, and practices to restore and elevate your energy.
MODULE #4
Connect + Amplify: Bring the inside out. Author your chosen future, and build your path with potent goals to help get your there. 
MODULE #5
Practice + Be: Look forward and show up as the most authentic version of yourself every day. Craft your daily practices of alignment and embodiment.
MODULE #6
Resources + What's Next: With clear eyes and a full heart, you have the support and resources to live a life you love.
Praise
Working with Leah Cullis is a MUST. As a friend, coach, and yoga teacher, she has given me so much wisdom. Watching her gracefully own the roles of Mother and business owner to create a different kind of life — one we don't normally see on LinkedIn because it is completely different from what the corporate world has done thus far — has been an absolute inspiration. If you're lucky enough to have her alongside you on your path, I promise you your life will change.
Kelly F. | Growth Strategy & GTM Leader | Leadership Coach & Consultant | Mother
GROUP COACHING
This is a safe place where everyone is working on their own journey of alignment and purpose.
Before each group session, you'll dive into the course work through videos and journaling prompts to personalize your experience. When you come to class, we'll dive deeper into the concepts together, and share what open up for each of us. 
We'll explore universal principles of alignment, energy, and flow, and how to apply these practices and concepts in your life.
** This group coaching program is for women only at this time. **
I am a purpose + wellbeing coach, yoga expert, and internationally published author. I am also a mama, wife, daughter, eternal student, and recovering perfectionist.
I synthesizes timeless teachings with modern methods and make the lessons accessible and relevant for life today. 
As your coach, my mission is to guide you beyond your doubts and into your body, where your true power resides. I'll teach you how to craft a vision that lights up your heart and how to map out the unique steps to make it real. You'll learn to embrace your whole self and boldly claim your purpose.
My expertise resonates with women, leaders, and teams who are ready for an upgrade in body, mind, and spirit.
Join me on a journey of self-love, self-discovery, joy, and unapologetic confidence.
IS THIS GROUP COACHING PROGRAM 
RIGHT FOR YOU?
Have you ever felt like something is missing in your life? Do you have a sense that more is available?
Do you feel ready to breakthrough to your next level of life, joy, and purpose?
If yes, the Emerge Method may be right for you.
I'll guide you through the process and help you tune into the magnificence within you. Once you are clear and claim who you are and what you really want, I'll teach you how to nurture, honor and amplify your energy and live aligned with highest self.
It's time to take the risk of being fully, authentically, powerfully you.
Together, let's unlock your full potential and create a life filled with joy, purpose, and fulfillment. Remember, you have the power to emerge stronger than ever before.
Spaces are limited, so don't miss out on this life-changing opportunity.
 

October 1st - 30th, 2023

 

5 Live group coaching calls on Mondays at 7pm 

 

Online course + e-book

 

Supportive container to focus on your wellbeing and purpose
When are the live coaching calls with Leah? What are the dates and times?
Can I share course info with a friend?
How many people will be in each group coaching session?
I loved this course and want more! What other courses do you offer?